Fireplace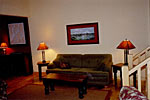 Sitting Area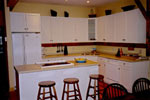 Kitchen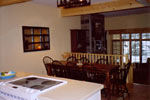 Dining Area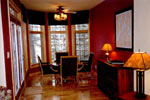 Breakfast Nook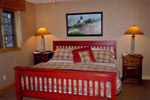 Bedroom
It is the kind of place where Muskoka chairs are made for. Corbett Cove is located on the northern tip of the Lake of Bays. Breathtaking views surrounded by majestic red and white pines. Built in 2004, this brand new collection of fully decorated units offers a three-bedroom vacation unit in a rustic yet luxurious getaway in the Muskoka Lakes.
THIS UNIT IS AVAILABLE FOR RENT

January 11 - 18, 2015
May 10 - 17, 2015
June 28 - July 5, 2015
November 1 - 8, 2015
December 6 - 13, 2015
Convenience
From this three-bedroom unit with a captivating rustic exterior, step inside to full and modern conveniences from a dishwasher to satellite dish. It has a Muskoka room and den as wellas a living room with wonderful views.
To ensure that your stay is all play, all services and amenities are taken care-of from maintenance to full security. It even has docking facilities for those with a boat.
Location, Lifestyle and Activities
Corbett Cove is cradled in the last of the unspoiled wilderness area of Muskoka; offering tranquillity in wildly beautiful lush surroundings. It is located in Dwight, Ontario, one of the getaways to Algonguin Park and close to Deerhurst and Grandview; handy to all the M&AP renowned outdoor activities. Fabulous golf courses and restaurants are close plus water and snow sports are at your doorstep.
Please view the website at www.corbettcove.ca for more details.
Rental Fees
This is a full year use faciltiy and weekly rates depend on the time of the year and availability.
– please call this number for more details –
1-519-673-6181